Whether you're blogging for business or blogging as a hobby that you hope to one day turn into a business, odds are you work really hard on the posts you create. When you put all those hours and energy into writing and working to promote your blog posts, there are few things more devastating than getting little to no traffic.
A great place to find more potential blog readers is on social media.
After all, it's free to use, and your ideal audience is already hanging out there anyway.

Search engines also give more weight to the content shared on social media sites like Pinterest, Twitter, LinkedIn, Facebook, etc. because it's telling them the information on your links is valuable. This means that when people search for keywords that are included in your blog posts, those posts are more likely to rank higher in search results — meaning more traffic to your site.
You're already probably working to make sure your blog content offers real value for readers, but now you have to get eyeballs on all that juicy content.
Related: 8 blog SEO tips and tricks
How to promote your blog on social media
In this post, you'll find the best tips that are working right now to promote blog posts on social media. I don't want your efforts to go to waste anymore. Here's what we're going to cover:
While I'm fully aware that new platforms are constantly being built, and that some are still gaining significant traction (looking at you TikTok), for today I'm going to focus on the social media platforms that are still considered the most popular in 2020.
Let's dive in!
Smart tactics for content promotion on any platform
First, here are some general rules to keep in mind for content promotion across all of the social media platforms.
1. Use WordPress for your blog
I use GoDaddy's WordPress Hosting for my personal website. But even if you don't, I highly recommend you use WordPress for blogging. One major reason I prefer it for myself and my ghostwriting clients is that the available plugins make it stupid simple to create better status updates for social media without needing to know how to code.
For example, the free version of the SEOPress plugin helps me easily manage my titles, meta descriptions, open graph tags for Facebook and Pinterest, as well as my Twitter card.
I love how easy it is to use the plugins to update what posts will look like on social media if I or my readers share them from my blog.
Another good reason to use WordPress is that Search Engine Journal says that it is the best CMS for SEO. Not only does it help you optimize your blog for mobile, but it features SEO-friendly themes, and its software plays well with other tools on the market such as Google Analytics, email marketing software, ecommerce platforms and more.
Related: Why WordPress? 7 benefits of WordPress websites
2. Always have a fabulous image for your posts
If you didn't add an image to your blog post before you published it, go back right now and insert a picture! Images are crazy important for upping your traffic. How important? Welp, according to Jeff Bullas, articles with images get 94% more total views! So make sure you get a killer image for that post you just busted your brain to write. (Just don't swipe one from Google because there are copyright rules, but we'll save that for another post.)
Your best bet is to take your own pictures for your posts. Got a smartphone? Start shooting.
P.S. That SEOPress plugin I mentioned earlier? It will help you create social media-ready images, too! Not only will it give you an easy way to create a custom title and description for Facebook, LinkedIn, Instagram, Pinterest and Twitter, but it also allows you to load an image that will work perfectly with your social media status update! And, it tells you the best size and image ratio to use for optimum results.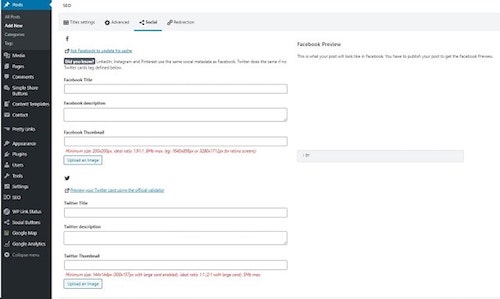 Here's an example of how a blog post would look when shared to Facebook while using the SEOPress plugin: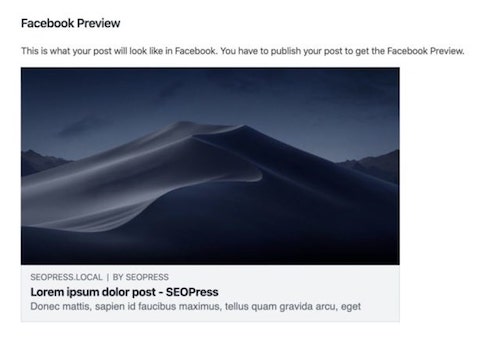 Related: How to optimize images for the web
3. Don't be scared to promote more than once
Let's face it. There are a lot of people competing for attention across all social media platforms. That's why you need to promote your blog posts more than once. How often? To be honest, I keep finding conflicting advice on this.
The bottom line is that a single status update that a new blog post is live is not enough to promote blog posts you've written anymore.
You'll need to experiment on how frequently your audience wants you to share.
4. Maintain a social media content calendar
Content promotion takes planning, and a social media content calendar will keep you organized so you have a better chance of meeting your traffic and engagement goals. Here's how to create a social media calendar.
5. Enable easy social sharing with icons on blog/website
Every blog post should have buttons that allow for easy sharing by you or your readers.
In the blog post that you are reading right now, you likely see the icons for Twitter, Facebook, LinkedIn and Pinterest at the top of the screen on mobile, or on the left of the page on desktop.
As you scroll through the post, these icons remain visible. When you click any of the icons, it gives you an option to share this post on their respective platforms.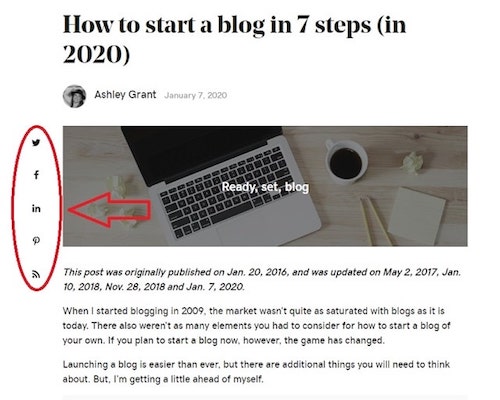 Your blog should have similar buttons that enable your reader to easily share to their favorite social media platforms.
Not only will this help you gain new readers, it also shows the world that you're enough of an expert in your field that people want to share your content. How can you get these types of buttons for yourself? You can either have someone write them into your website's code, or do what I do and use a plugin.
Another option for an easy share button is the "click-to-tweet" button. When you use this or a similar service, you can embed a breakout box in your posts of a quote, subhead or even just the title of your post that when clicked tweets out a message you've prewritten along with the link to your blog post.
6. Be mindful of timeliness
How often you share a new blog post will depend largely on whether or not it's a timely piece. For example, if you are promoting a blog post that is about summer fashion trends, it won't make much sense to promote that post multiple times in the winter. However, it does make sense to promote it a bunch in spring and early summer while people are still shopping for summer fashions.
On the other hand, when you update timely posts for the new year, you can always reshare them again. In other words, just be aware of what is going to be most helpful to your audience before re-sharing anything.
Pro tip: Write more evergreen posts than timely ones.
Not all blog posts will immediately get attention on social media. I've had posts get likes and shares several weeks after posting them.
Related: Seasonal vs. evergreen content
Tips for promoting your blog on Facebook
It's no secret that Facebook is still the top dog in social media … at least so far. With that in mind, here are the best tips for posting to Facebook.
1. Don't share only your own content
While the goal is to get as many readers on your blog as possible, it's important not to spam your page with only stuff from your website. Instead, the better option is to share useful links that will help your ideal audience, while showing them that you know your stuff.
2. Don't share too frequently
According to HubSpot, if you have fewer than 10,000 followers, you shouldn't share posts (yours or other people's) more than 60 times per month, or about twice per day. They also say that even if you have more than 10,000 followers, "clicks per post peaked at between 31 and 60 posts per month."
With this logic, I would share one blog post of yours and something else each day. That something else can be a meme, an infographic, a link to another website, a video or some other graphic you've created.
3. If you can afford it, invest in ads, but don't just "boost" to anyone
If you really want to push traffic to your website, consider purchasing Facebook ads. But, make sure you've installed a Facebook Pixel beforehand to better track your return on investment.
And, several experts I've been following have said to never hit the "boost button" on your Facebook page to buy your ads. They all agree that the boost button is a waste of your time and money, and that you will have better results buying a targeted ad through Facebook's Ad Manager.
Finally, really hone in on who you're marketing your ads to. You don't want to promote to a large audience. Instead, get clear on your ideal customer persona, and then use Facebook's targeting to only promote blog posts to those people.
For some more amazing insights into Facebook ads, I recommend checking out these posts:
Tips for blog content promotion on Instagram
is Facebook's younger sister and it's on track to become more popular than Facebook. In fact, it's already more popular for Generation Z.
1. Create high-quality images
The platform is highly visual, so you will need some quality images to capture people's attention.
Here are some resources to help with that:
2. Maximize your Instagram bio
Instagram gives you the option to share a caption that could pique enough interest to get someone to click through to your blog. The catch? Well, unless you have 10,000 followers or more, your only place to add a link to your website on your Instagram page is your bio.
Lots of people I follow, and I myself, use that real estate to share multiple pages. How? By using one link that links to several blog posts.
For example, food blogger Nichole Crews does an excellent job of using her Instagram page to promote multiple blog posts she has written. She shares the images of her yummy eats as her Instagram content, and then each caption she writes directs people to her link in bio. That link takes her fans to her linktree featuring multiple links people can click on her website so she gets more bang for her buck.
Here's how her Instagram feed looks, and how her linktree looks when her followers click that: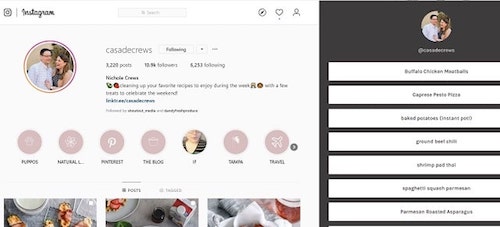 3. Experiment with post frequency
Several articles I've read indicate that Instagram is one of the few platforms that rewards users who post more frequently with better engagement because the people who use it more show up in the news feed more often.
Of course, you'll need to experiment with this to determine what frequency is best for your followers. For example, if you find your engagement is going up when you post three times a day, but plateaus or dips at four posts, then you'll have an indication that three times per day is your sweet spot.
4. Leverage Instagram Stories
Of course, these days, everyone swears by Instagram Stories more than any other means of blog promotion. Again, the frequency with which you should post will vary and you'll need 10,000 followers for that precious "swipe up" feature that allows you to link to individual blog posts and/or other links that you want to promote.
To learn the best tips for Instagram stories, check out this post on using them for digital storytelling.
5. Use hashtags to drive niche-specific traffic
When you use niche-specific hashtags to help promote blog posts on social media sites, other social media users who are following similar hashtags are more likely to find you.
This is why when you use a hashtag like #yoga in a post about the yoga article you just published on your blog, yoga enthusiasts you've never met might bend over backwards to like and share that post. #thatsjustsmart
An added benefit to niche-specific hashtags is you're more likely to drive qualified sales leads to your site.
With Instagram, you can use up to 30 hashtags, but Wordstream suggests the optimal number is 11. Of course, other bloggers I've talked to say their sweet spot is 20. So, I guess this is yet another example of something you'll need to test out for yourself.
Related: How to hashtag on Instagram and Twitter
How to promote your blog on Twitter
I've found that Twitter is the best way to directly connect with fellow bloggers, brands and businesses for collabs, round-up posts and when I'm looking for a source for an article.
The trick with Twitter is to be creative.
Let's say you wrote a post about the world's best margarita. First, why didn't you invite me over while you were making that delicious concoction? I love me some tequila. But I'll forgive you if you tweet out the recipe and tag me @AshleyisFamous.
In all seriousness, there are right and wrong ways to share your posts via Twitter.
1. Get creative
Skip the lazy approach, like tweeting out "World's Best Margarita" with a link to your post. You have 140 characters to make a strong impression! So write something more exciting like, "Want the scoop on the World's Best Margarita recipe? Check it out here [URL]! #cocktails #cocktailrecipes"
Here's another one: "My #Margaritas are better than yours. Get my recipe at [URL] and I'll prove it!" Or even, "Hey @TipsyBartender! You think you know good margaritas? You ain't seen nothing yet! [URL]"
2. Use hashtags
Using hashtags helps your tweets gain visibility when people search for specific keywords — which can translate into more clicks, reads and retweets. According to Social Media Examiner, the best number is no more than four per tweet. They also stated that "the best times to post on Twitter are 8 to 10 a.m., 11 a.m. to 1 p.m., and after work from 4 to 7 p.m."
3. Cushion your shoutouts
Did you notice that when I tagged @TipsyBartender I didn't make his Twitter handle the first part of the tweet? Why? Because Gary Vaynerchuk told me not to! When you put someone's Twitter handle at the front of your tweet, only people who follow you AND the person you tagged will be able to see that tweet.
By putting at least one word before the handle tag, I've now opened it up to be visible to all of my followers!
4. Keep posting
I have to agree with another awesome nugget that Mr. Vaynerchuk shared: It's OK to post the same content to Twitter more than once a day: "It's appropriate to push something multiple times because the speed and noise creates constant diversity in content."
Like our crazy world, Twitter moves fast, people. No, this doesn't mean tweet the same thing 20 times in 20 minutes. Spread it out throughout the day to hit multiple time zones. I also like to switch it up with different tweets that lead to the same URL.
Related: How to use Twitter for business
How to promote your blog on LinkedIn
LinkedIn is a great place to promote blog posts because it's not nearly as saturated as other social media platforms. And, since it's still largely a professional platform, it's also wonderful for getting your name out there to potential brand partners and customers.
Again, I'm turning to Social Media Examiner for the optimal times to post. In this case, they say "the best times to post on LinkedIn are 8 to 10 a.m. and 4 to 6 p.m."
From bloggers I've spoken to and various posts I've read, the recommended number of times to share a new post is once when it's live, once a week for a month or two after that, and then once every other month for a year.
Related: Ultimate guide to LinkedIn for business
Ways to promote blog content on Pinterest
interesting note is that Pinterest is not actually a social media platform, and yet it's often considered one. The reality is that it's a search engine more than anything else.
1. Create a pin for each post
My best tip for Pinterest is to make sure you have at least one high-quality, unique pin for every blog post you write. And, it should go live as soon as your post is live.
2. Use search-friendly descriptions
To promote blog posts on Pinterest, make sure you are using a description similar to your blog's meta description. And, try to make sure that you include the keyword phrase someone would be looking for on Pinterest.
Finally, you need a stellar picture with an eye-catching headline written on the image, which, by the way, can be a different image from the one you use in your post.
Related: Pinterest SEO
3. Make the most of boards
Post your blog post's pin to a relevant board on your Pinterest page. This gives Pinterest more clues as to what your blog post is about. For example, your perfect French toast post should be pinned to a recipe or breakfast board.
4. Experiment with timing
Social Media Examiner states, "the best times to post on Pinterest are from 12 to 2 p.m. and 7 to 10 p.m. Also post on weekends." However, I've found that I get the most repins from midnight to 3 a.m., when I suspect my readers can't sleep.
At the risk of sounding like a broken record, experiment and see what works best for your engagement as your audience may be different from the average.
Related: The ultimate guide to using Pinterest for business
Ways to promote blog content on YouTube

YouTube is also more of a search engine than a social media platform, but in my defense, they do have a community section that allows users to directly engage with content creators. Still, my advice for using YouTube to promote blog posts is similar to Pinterest in many respects.
Use a great title and description that someone would be searching for.

Your image thumbnail should also be high quality to catch the attention of the average user.
But, of course, the difference with YouTube is that you can't exactly just load an image and a link in the description to your post. In this case, you'll need to create and upload a video.
For the fastest results, I recommend either reading the blog post to your viewer or showing them something related to your blog post. For example, if it's a how-to post like a recipe or craft, your video should be of you making the item you're blogging about. Then, to direct your viewer to your blog, include the link to your post in the video's description, and state in the video that the viewer should visit your website for this post and others like it.
Side note: Have you noticed that Pinterest and YouTube results have started showing up as top results in Google search rankings? I have, too! And I suspect it's because the descriptions in these types of posts are typically what people are looking up on Google.
Related: How to make money on YouTube
Conclusion and next steps
We've covered a lot in this post, and I know it's a lot to take in. But, that's why it's so important to have a plan in place before you just start randomly posting to various social media platforms.
To make things easier on yourself, I recommend first creating that social media calendar I mentioned earlier, and then getting clear on which social media platforms you want to start with. You don't have to post everywhere just yet.
Start with one or two and begin growing your following. As you start to gain more traffic, and hopefully more money, you can branch out into other platforms.
With any luck, you'll start growing your business so fast that you can hire on help to do your social media posting for you.
But, I'm getting a little ahead of myself.
To close things out, I'll leave you with some additional ideas for content promotion. Remember, you don't have to do everything at once, but you do need to do something if you hope to gain more traffic to your blog. And, social media is a great — free — place to start.
Additional tips to promote blog posts include but aren't limited to:
Include your latest blog post links in your social media bio. These areas are prime real estate! Each social media platform allows you to place a link to your website, why not constantly update it with your latest blog post?
Pitch it to the news. Perhaps you wrote a post that could get you on television, on the radio or even in the newspaper as an expert source. If it's newsworthy enough, send that post to the media! Keep an eye on local news stories. If you've written a post that relates to a current or trending event, send the news desk a brief summary of your post along with a link to it.
Email your post to your subscriber list. Fresh blog posts are brilliant fodder for email newsletters. Feature your latest, greatest post in your next email to newsletter subscribers. Yep, the cool kids are getting on the list train and sending out newsletters every time they write a new post, or including links back to posts in their weekly or monthly mailings.
While we're talking about email, why not add your latest blog post to your email signature? If you're already going to be corresponding with people anyway, let them know what you're up to by sharing your new links with a quick description of it. For example:
All the best,
Ashley Grant
813-555-Blog
Check out my latest blog post on GoDaddy about Entrepreneur Burnout.
Simple, and could get you more clicks!
Continue your blog education
Want to learn more about getting more traffic and leveraging it to make money? Check out these posts:
Looking for an easier way to grow with WordPress? Try GoDaddy's WordPress Hosting. Get more traffic, time and peace of mind thanks to a simple setup, automatic software updates and a pre-installed SSL.
The post How to promote your blog on social media appeared first on GoDaddy Blog.