Optimize Your Content for SEO Ranking
Have you ever written an eBook or any blog post content of 4000 words or more?
If you haven't, you probably don't understand the benefitsof writing longer posts and may think that it's just a waste of your time.  However if you have written longer content, your efforts will be rewarded and can mean a huge difference in your search engine rankings.

Let's imagine that you want to set up your own business.  You probably would lie awake at night, worrying that your business might fail.  While researching business ideas, you find a comprehensive guide for starting any business.
This guide is loaded with everything you need to know and clears up all your doubts and fears.  After reading it you begin to trust the people that created it.  You have now found a go to information source to go to.
That is the benefit of creating informative, in-depth, long-form content.  Long-form content will get you more of what you want from your blog.  It will give you more visibility, improved engagement and social shares, and more backlinks which are an integral part of your SEO.  Most important of all, it will make your audience start seeing you as an expert in your industry.
Begin With Keyword Research
After deciding on your blog topic, but before writing your post, you need to do some keyword research.   You need to take some time to search for the "focus keyword" that best describes or relates to your chosen topic.  You should also consider related keywords that might have less competition.
This is an important step that needs to be done correctly because it will ultimately determine your content's success in search engines.  There are many amazing tools on the internet that can make your keyword research task much easier.  
One of my favorites is called Keyword Tool which is a free online keyword research tool that uses Google Autocomplete to generate hundreds of relevant long-tail keywords for any topic.

Another important consideration in your keyword research is keyword intent.  Keyword intent is simply a representation of the your user's purpose for the search.  It's what we think the user is likely to do during a search since we can't be sure.  Keyword intent is a very important concept when it comes to keyword research.  
Target Long Tail Keywords
Now that you understand how important your focus keyword is as the first step in writing your long form blog post.  The next step builds on your focus keyword.  Using your focus keyword you also need to be targeting long tail keywords.
These are keyword phrases that get very specific about any topic.  You should be interetsed in long tail keywords because thay are usually much easier for you to rank with and drive highly targeted traffic toward your content.
Below is a great example of long tail keywords which I got using the popular keywordtool.io tool: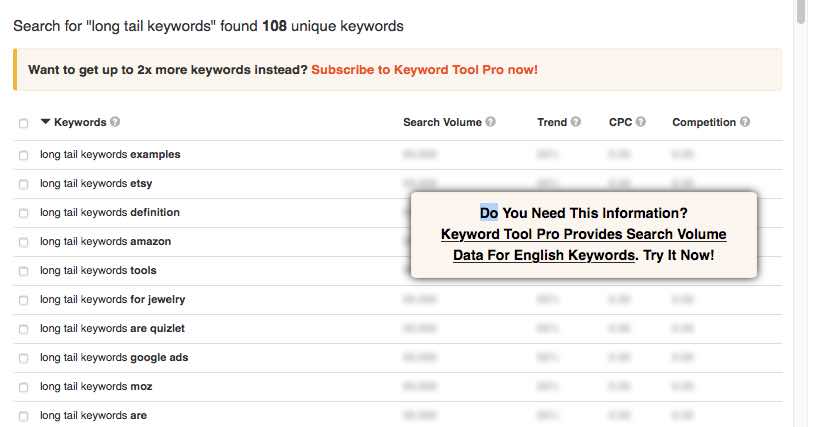 Optimize and Clean Your URL
Cleaner and shorter URLs help search engines understand what your post is about.  They also provide a better user experience.  
If possible, it's great for your URL to also include your target keyword.  Doing this helps it to rank better.  Remember, it's always better for your URL to be short and concise.
Use A Proper H1 Tag
Because your H1 Tag is usually your blog post title, it will always be the first thing people see when they arrive at your blog posts.  Selecting a great H1 tag can significantly impact your search engine ranking.
The chart below shows the search engine ranking result gotten from a local car parts store in Houston, Texas after they changed some of their page titles and H1 tags:

When you have optimized your H1 tag it enables the search engines ability to index your content efficiently.
Your H1 tags should:
Be short and to the point.

Provide a clear idea of what the blog post is about.

Have a

 long tail keyword

(your target keyword).
Once your headings have these qualities, you're good to go.
Add Good Subheadings 
When you write your content, it's important to have catchy headlines.  Your writing must be amazing, using well-crafted words, punchy sentences, and incredible insights into your readers needs.  If your post is longer than 150 words, you need to add sub-headings.
This is true because we all know that large blocks of text are a chore to read.  The subheadings you need to use are the h2, h3, and h4 tags usually contained in a blog post.
You need to use subheadings to characterize and break up your content into easy to follow chunks.  Doing this makes your content snackable by those who want to skim through your content and hit the high points.  
Add Inbound Links
Internal links are any links from one page on a website that points to another page on the same site.  Smart bloggers and content marketers use these internal links to tell Google and website visitors that a particular page of content is relevant.
There are many benefits associated with internal linking, the benefits include:
It helps to boost your ranking for certain keywords.

It helps search engines easily crawl your site.

It can help you to promote some paid services.

It gives your audience further reading options.
Add Outbound Links
Like inbound links, when you link out to related pages it tells Google that your page has high quality content.  Your outbound links also help search engines figure out your exact topic.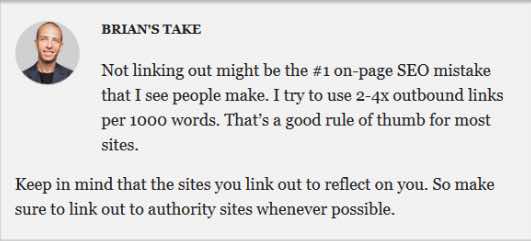 Optimize Your Title Tag
Title tags are incredibly essential to your content.  Using a properly optimized title tag enhances your page's visibility in search engine results pages (SERPs).  They're usually the very first thing people see when your content shows up in the search results.
For the sake of clarity, a title tag is the title of each result that comes up.
Here's an example:
While writing your page's title tag, ensure it contains your focus keyword and also describes the benefits the page offers.
Optimize Your Meta Description For SEO
Your content meta description is a 160 character snippet that summarizes a page's content.   Search engines like Bing and Yahoo support the description attribute while Google falls back on this tag when information about the page itself is requested in a search query.
A well written meta description attribute provides a concise explanation of your web page's content.  This is  a Web page authors opportunity to give a meaningful description of the pages content.
Your meta description is often, but not always, displayed on search engine results pages.  The effectiveness of your meta description is easily measured by how it can affect your click-through rates.  Clicks may be a positive sign of effective title and description writing. 
Like the title tag, your page's meta description enables your post to stand out in the search engine result pages.
A properly optimized meta description should:
Include a focus keyword.

Be brief (about 160 characters).

Be crystal clear and descriptive.

Contain a call-to-action (CTA).

Be enchanting and entice the visitor to read the entire page.
Multimedia Enhances Your SEO Ranking
You already understand that your content marketing is not about just text.  Text alone can only do so much.  Including entertaining videos, images, screenshots, diagram, and charts can take your content more engaging and useful for your audience.
Including multimedia will boost the time visitors spend on your site.  Multimedia will also reduce your bounce rate by keeping visitors on your site.
These are the two important user-interaction ranking factors that Google has been using to judge web pages recently.  I often use a lot of images, charts, and screenshots on my blog posts.  
I understand how multimedia makes my content authentic and genuine to my audience.  I know how using multimedia enhances the perceived value of the page, which will equally increase the likelihood of people linking to it.
While writing your long form content, try and add as many relevant multimedia as possible.
Add Your Target and Related Keywords 
It is important to include your focus keyword in the body of your blog post.  Don't overdo it, just ensure it's in there a few times.
This makes Google understand that your focus keyword is important while crawling your content.  Also, include some related, low competition keywords throughout your content to enable you to rank for even more focused long tail keywords.
It's advisable to mention your keyword toward the end of your article, and in some of your subheadings.  Remember to tread with caution and don't over do it.
Perform Proper SEO Of Long Form Content
Your long form content is effective in positioning you as an authority on your topic.  It also enhances your search engine ranking.  You can achieve your goals using solid SEO practices, like these 11 points.
This is not a complete list of everything needed for you to have great SEO.  These are the basics that will help you craft the best long form content on any topic.
Search engine optimization is a long term strategy and not something you should expect seeing results from immediately.  For your stategy to be effective, you need to be patient.  Embrace and implement these techniques, and then watch, with patience, as your rankings skyrocket.