What is visual content marketing?
Visual content marketing uses images, rather than words, to communicate a message about your business, product or service. Visuals are a snackable way to express ideas.
Visuals are a growing part of social media and they continue to evolve.  People are busy today and images catch their attention quicker and are easier to process than text as they scroll through a social media feed.

Social Media Marketing Thrives on Visuals 
Social media marketing makes the old saying that "a picture's worth a thousand words" so much more relevant today.  As marketers, we are storytellers.  A great photo or graphic tells a story in one brief glance.
You can use a great graphic or image to instantly tell your story.  Today, we live in an overloaded digital space that is rich with information.  Attention spans are so short and we have just seconds to be noticed. Text-based marketing alone has become less and less effective.
The brain processes visuals 60,000 times faster than text.  A good image can connect an idea or message much quicker and stronger than text-only content.
Different types of visuals you can create 
There are five primary types of visual content you can create for social media: videos, photos, creative images, infographics and slide shows.  Comics, memes and infographics tend to be hugely popular on social media.
Comics and memes are a creative way to showcase humor.  They're fun and relatable, so people are eager to share them with their friends and family.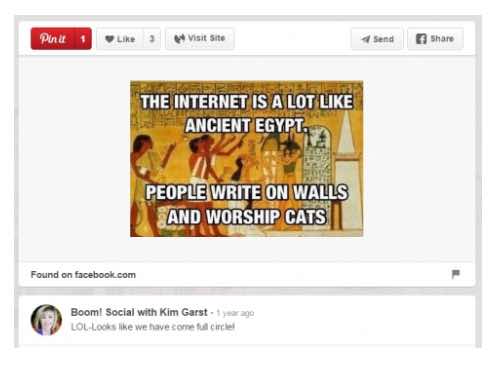 People are eager to share something humorous and relatable with their friends and family.  Businesses that use infographics have a 12% higher growth rate than companies that don't. Infographics offer a visual way to share a lot of interesting content in one image. People love them too.
The most popular place to get more bang from your infographics is on Pinterest. People share them there like mad. Another great place to leverage infographics is on blogs.
An infographic doesn't necessarily have to be complex to be appealing and effective. For example, if you have a blog post that's about 10 ways to do something, then you could repurpose your blog content and very easily make an infographic on those 10 ways.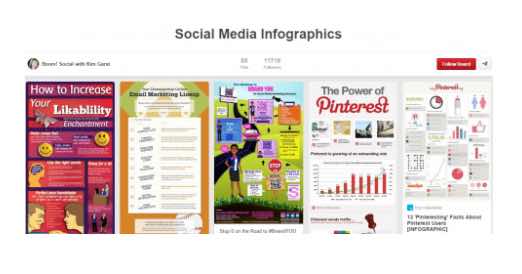 Infographics take a lot of content and turn it into a visual making it more easily sharable.  Sharing a mix of visual content that's outside of, or seemingly unrelated to, your product or service can actually help build a community and drive sales, engagement and exposure for your brand.
Create Images Using the Best Tools and Resources 
Creating visual content might be a challenge for someone who is not a designer. Kim offers several tools and resources to help you easily create shareable images even if you're not creative.
Knowing what colors and fonts to use in your images can make a huge difference and it's all in the tools. You need to use Google Fonts and Dafont to find fonts.  Both sites offer a variety of individual fonts that are all free, searchable and available for download.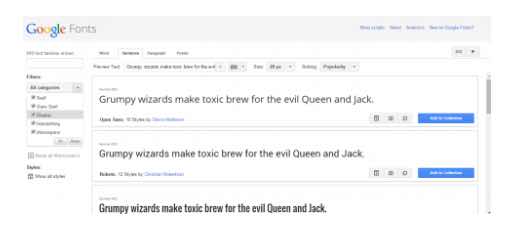 Google Fonts offers a backend system of fonts that are free, searchable and available to download.
To help you choose the correct colors, you can use three unique resources: Design Seeds, Adobe Kuler also known as Adobe Color CC and Pictaculous. You'll hear Kim explain how she uses each of these sites to find the perfect palette for her social media images.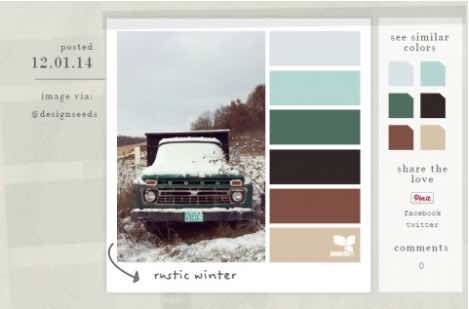 Design Seeds showcases color palettes in a photo so you can see how they look together.  I originally used Photoshop to create all of my images, but found this program can be complicated.  There are many simple and easy-to-use alternatives to Photoshop such as PicMonkey, LiveLuvCreate, Canva, Paint.NET, PowerPoint, and PicCollage to generate beautiful images, both on your desktop and on the go.
Discovery of the Week
Have you ever noticed the links from your website Google recommends when you do a search for your company or product?  Are you wondering how you could remove or edit which site links Google shows for your company?
Have you heard about Google Webmaster Tools?  Google Webmaster Tools allow you to do a lot of cool things with your website.  Things like research data and keyword searches for your site.  It even scans and notifies you of errors, malware or other issues with your site.
Once you've set up your site on Google Webmaster Tools, you will have access to a feature called Search Appearance.  This feature shows what appears when a Google search is returned with your site.
In the menu beneath Search Appearance, a tool called Sitelinks allows you to select which pages of your site will show up in Google's search results as a recommended link.  This gives you the flexibility to demote or promote specific sub-links from your website and hide others.