Your Bounce Rate Measures Your Marketing Effectiveness
The bounce rate for a web page is an Internet marketing term used in web traffic analysis.  The bounce rate represents the percentage of visitors who enter the site and then leave or "bounce" rather than continuing to view other pages within the same site.  Your bounce rate is calculated by counting the number of single page visits and dividing that by the total visits.  It is then represented as a percentage of total visits.
Bounce rate is also a measure of your web page's "stickiness."  The theory is that an effective website will engage visitors and cause them to navigate deeper into your website.

To determine what your bounce rate is simply log into your Google Analytics account.  If you haven't set up Google Analytics on your blog, it's time to do so.  Google Analytics is powerful, provides invaluable information, and is completely free to use.   Learn how Google Search Console can improve your search rankings.
Once you're in Google Analytics, go to Audience, select Overview and look at your Bounce Rate.  You should see a chart and a percentage that looks something like this:

Most blogs don't see much day-to day-variation in their bounce rate.  It may change slightly when you send out our email or take some other marketing action.  However the chances are good that your blog has a steady, even line when you view your Google analytics chart.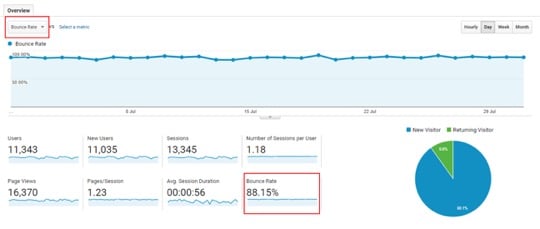 How to Interpret Your Bounce Rate
A high bounce rate number, such as 99% means that a lot of people are leaving your blog without checking out any of your content beyond the page they arrive on.  Having a low bounce rate number means a lot of people are sticking around, and looking at more than one post or page on your site.
Bloggers automatically think that a high number is bad and a low number is good.  It's worth keeping in mind that a high bounce rate isn't necessarily a bad thing.  There can be many reasons that your rate is high, for instance:
You might want readers to leave and do something else.  A good example would be if you promote affiliate products.  You probably want to send readers away to buy them.
You might want people to call your business.  And a high bounce rate might suggest that's working.  People are finding your site, and then picking up the phone to call you.
You might sell products through a major e-retailer such as Amazon or eBay.  If you are, you'll need to send people away from your site.
You might be getting readers to sign up to your email list through a popup tool that doesn't load another page on your site.
How to Analyze Your Bounce Rate
Although looking at the bounce rate for your entire site can be interesting, it's more informative to focus on specific pages.  You can do this by going to Behavior →Site Content →Content Drilldown, and clicking on the page you're interested in.  Here's an example: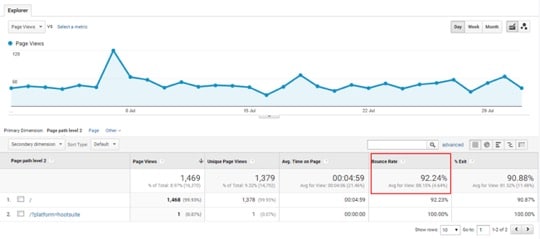 Your bounce rate for different pages may vary greatly.  When people arrive on your front page, they're probably trying to figure out what your site is about, they are trying to decide if your content interests them.  It makes sense that the bounce rate of that page may be relatively low.
Other pages, especially older content may have a much higher bounce rate.  A post from 2012 may get search engine traffic every day, but its bounce rate would probably be high.  People arrive, see that the information isn't relevant for them, and leave.
How to Look at the Bounce Rate of Different Sources of Traffic
Another thing to be aware of is that bounce rates vary depending on the traffic source. In Google Analytics, you can go to Acquisition →All Traffic →Channels to view the bounce rates for different sources of traffic. It'll look something like this: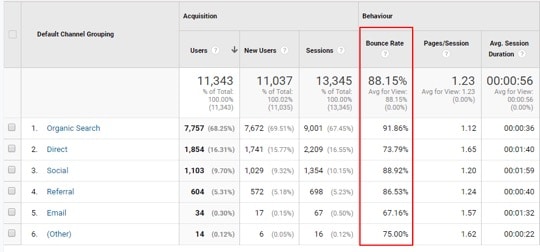 When I'm looking at widely scattered bounce rates I'm particularly interested in the Google traffic because more than half of my traffic comes from Google.  Most of Google's traffic comes from first-time visitors.  I'd love them to stick around and hopefully subscribe.
But I'm not particularly bothered about lowering the bounce rate for email traffic.  It's already pretty low, and those people have already subscribed.
13 Ways to Lower Your Blog's Bounce Rate
Armed with an understanding of bounce rates, now it's time to break it down by page and traffic source.  Using the power of Google Analytics, let's go through some ways to lower your bounce rate.
#1: Make a Great First Impression
When someone comes to your site for the first time, within seconds they decide whether it's credible, is relevant to them, and has content worth reading.
They base those decisions on your design, branding, tagline, and other clear indicators to the benefits of them reading.
#2: Establish Social Proof
If you have a testimony from a reader, or even better from someone well known, include it.  If you've got a lot of Twitter followers or email subscribers, put the number on your site.  If you've been featured or quoted in the media and can use that publication's logo, use it.  These are all signals to first-time visitors that your site is credible and useful.
#3: Remove Your Blog Post Dates
This is a bit controversial, but I'd like to suggest it anyway.  Consider removing your blog dates.  Doing so can help make a good first impression. Especially when you have a lot of older posts.
Many posts, even though from the past are just as relevant today.  However, if I included the date on that post people would probably judge it as less worth reading.
#4: Make Your Site Easy to Use
It might sound obvious, but people are more likely to click around on your site if it's easy to use.  Ensure that your site loads quickly, and make your content easy to read.
It's important to create scannable and snackable content.  Make sure your text is easy to read, have clear navigation, making your site responsive so it's optimised for mobile, minimize interruptions, and so forth.
#5: Produce High-Quality Content
If a first-time reader lands on a well-written, articulate article that enhances their life in some way, they're going to click around.  So focus on writing good posts that educate and inform your reader.
Investing your time to write great content improves your blog in other ways too.
#6: Ask Readers to Connect to You in Some Way
You want your readers to make an ongoing connection with you.  Perhaps by subscribing to your email list or following you on social media.  Make strong, clear calls to action in various parts of your blog to encourage readers to connect to you.
This will help keep readers coming back to your site as return visitors, which will reduce your bounce rate over time.  From our experience we also see that people who come back every day click around at a much higher rate than first-time visitors.
#7: Create Portals for Your Site
This is one of the best things I've done.  On my front page we have icons for different 'portals.'  The same icons also appear in the sidebar next to every single post.
Each portal is a special page that includes a call to subscribe.  There's also lots of information on each portal page.  It isn't a category page with links to our latest posts.  Instead it's a curated list of the best content we have.
These portals have reduced our bounce rate a loy.  The individual portal pages have a bounce rate as low as 40%.
#8: Create a "Start Here" Page
Our "Start Here" page is featured prominently in our navigation.  It's the first item in the menu.  It's targeted at first-time readers, particularly those coming from Google who hopefully spot the link in the navigation and click on it.
You don't have to call yours a "Start Here" page.  An "About" or "My Story" page could serve the same purpose.
#9: Make External Links Open in a New Tab
When you link to another site or blog from one of your posts, a simple way to ensure you don't lose your reader is to make the external link open up in a new tab or window.  That way, the reader won't actually leave your site.
This is simple to do in WordPress.  Simply edit the link and click the checkbox to open it in a new tab.  It's a simple way to keep people from leaving your site.
#10: Link Back to Older Content from Your Posts
When you write your next blog post, challenge yourself to create links to at least three of your existing posts.  For example, you could link to a previous post that covers something you mention in greater detail.
Another option is to add suggested reading or listening within or at the end of your post.  While you can do this using a plugin, I like to add in my own so I can choose exactly what I want to encourage readers to look at next.
You could also create an interlinked series of posts, which can be great not only for lowering your bounce rate but also for exploring more complex ideas on your blog.
#11: Link to Popular Posts in Your Sidebar
If you've got a post or even several posts that you know are popular, ensure that they're really easy to find.  You could highlight them on your About or Start Here page.  But you can also link to them in your sidebar.
You can do it with a text link, or you can get more creative with a button or a banner.  A great example is on ProBlogger.  They have an image in their sidebar that links to their "How to Start a Blog" post, with the call to action text in the image itself.
#12: Create a "Sneeze" Page
We highlight a post because it's always popular with our readers.  If a reader clicks that link, they end up on what I call a "Sneeze" page.
This page introduces the topic, then lists 40 or so different posts we've written that are relevant and specific to that topic.  The point of the page is to get people "sneezed" deeply into our archives.
You can also write entire posts with this in mind.  
#13: Make it Easy to Search Your Site
Many blogs don't give readers the opportunity to search their content, or bury their search bar somewhere low on the page.  This makes it hard for readers to search for information they particularly want.
Make sure your search bar is easy to find.  You want you readers to find the right content as easily as possible.  I know that's a lot to take in.  So here are some practical steps for what you can do next:
#1: Identify the top three posts on your site that consistently get a lot of traffic.
#2: Have a look at the bounce rate on each post. Are they all similar, or is one much higher or lower than the others? Can you figure out why?
#3: Try to optimise those three posts to reduce the bounce rate. You could add a call to subscribe, include further reading, or add extra links in that content.
If you want to go further, create a "Start Here" page for your site, or create some "Sneeze" pages or posts to list your best content in particular categories.
Don't forget to leave a comment below to let us know how you get on.