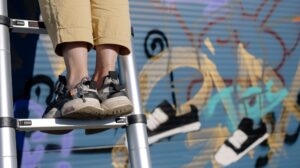 Social media is one of the most important tools in a small business owner's toolbox. In addition to having a social presence, regularly posting to keep customers engaged is effective in spreading organic word-of-mouth — but making sure those same posts get maximum reach and visibility is just as essential.
Incorporating paid content into your posting strategy is a key element to help increase brand awareness and exposure.
But knowing where and how to get started with paid advertising can be overwhelming and time-consuming — especially when your passion lies within your small business, and not becoming an expert digital marketer.

We're here to help. We're excited to announce Websites + Marketing now supports boosting posts on Facebook directly from its all-in-one platform to help small business owners reach more people.
Once you've posted something engaging on Facebook, taking that extra next step of boosting the post to get it in front of the right audience is easier than ever.
Our technology does most of the work for you, leaving just a few simple selections for you to make to ensure the post reaches your desired target.
This new feature joins other recent releases to help small business owners market and grow their business online.
Entrepreneurs and small business owners can now create effective eye-catching content, post it everywhere that matters, and boost it to increase reach — all from Websites + Marketing.
Boost Facebook posts to reach more customers
Boosted posts are an effective and affordable way to reach new people who are likely interested in your business and aren't currently fans of your business on Facebook.
When you boost a post, that post will show up higher on their newsfeeds and entice them to visit your website or business.
According to Facebook, "Boosting a post may help you get more people to react, share and comment on it. You may also reach new people who are likely interested in your Page or business but don't currently follow you."
Types of posts to boost
Now that you know why it's important to boost posts, let's talk about what kinds of posts to boost.
The best posts to boost are ones that would entice new customers to give your business a try. Posts that highlight specials, events, or discounts are ideal to get in front of more people because of the extra incentive they offer.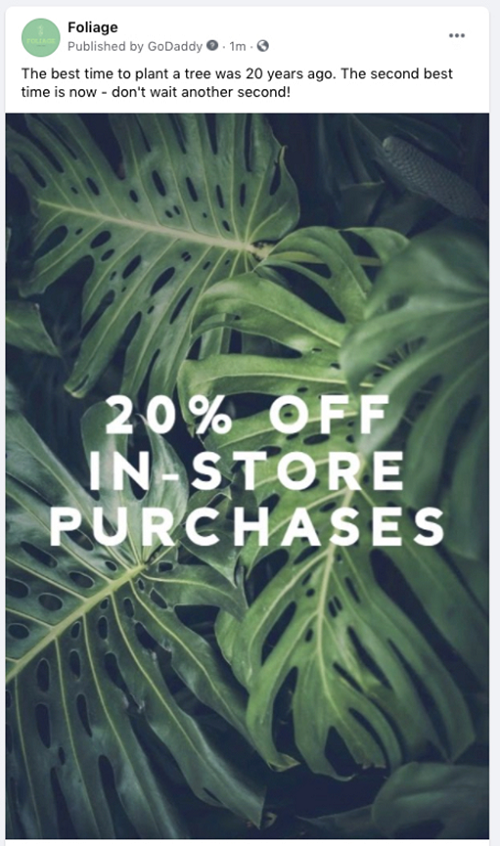 Boosting posts from Websites + Marketing
Websites + Marketing makes it easy to boost posts and track the results — all from one place.
Before we get started, you'll need a Facebook business page that's connected to a Websites + Marketing Premium or Ecommerce account.
Log into your GoDaddy account and select your Websites + Marketing site. From your dashboard, select Marketing > Social.
Under Social Media Posts, you'll be able to see all your recent, published posts. To the right of each post, you will now have the option to boost the post.

Pro Tip: When selecting which post to boost, choose ones that have already garnered some organic reach and engagement. Posts that already have likes or comments tend to perform better.
You can also choose to boost your post immediately after creating and publishing it.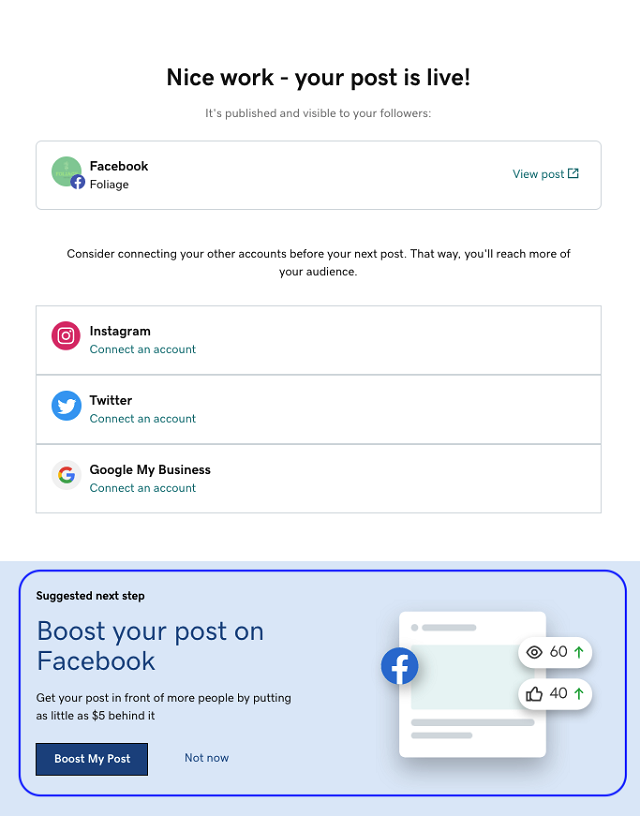 Now all you have to do is follow the prompts to select who you want to see your post, your budget and the duration you want your post boosted.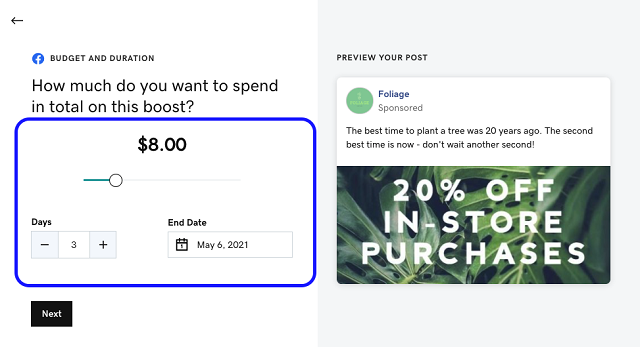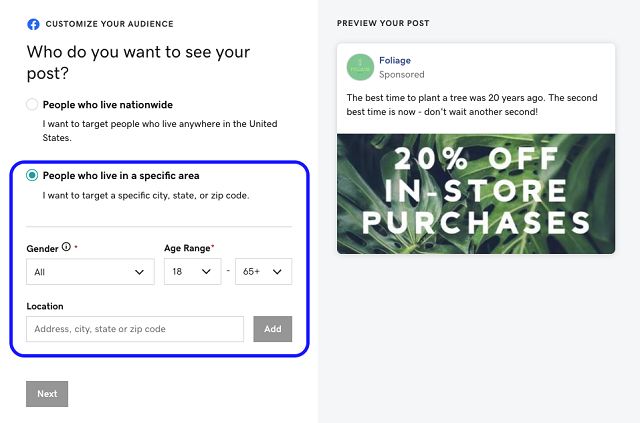 NOTE: Since you pay Facebook for boosted posts, your Facebook payment method is separate from and additional to payments you have set up with GoDaddy.
Track your results
Your post will be boosted for the duration which you selected — you'll be able to see how it's performing while it's active, as well as once it's complete.
In addition to likes and comments, you'll also be able to see how many impressions the post received.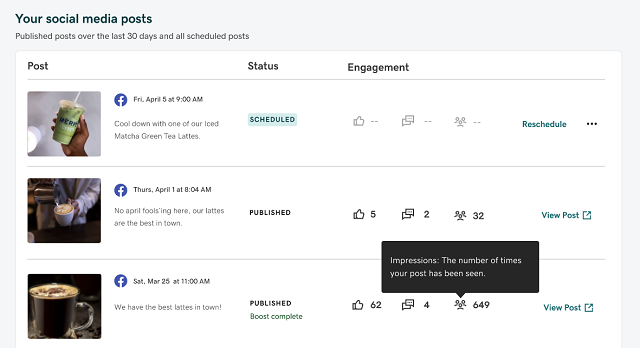 The boosted posts feature is now available in Websites + Marketing Premium and Ecommerce plans.
The post Websites + Marketing: Increase your exposure with boosted posts appeared first on GoDaddy Blog.