How to Optimize Your Content for Google's Featured Snippet Box
What is a Featured Snippet?
A Featured Snippet is shown in Google's search engine results pages (SERPs).  Usually when a question-based query is being searched for.  The snippet displays content from within one of the pages ranking on page one that directly answers the question searched for without the user having to visit the actual page.

Here's an example for the query, "how to make bread":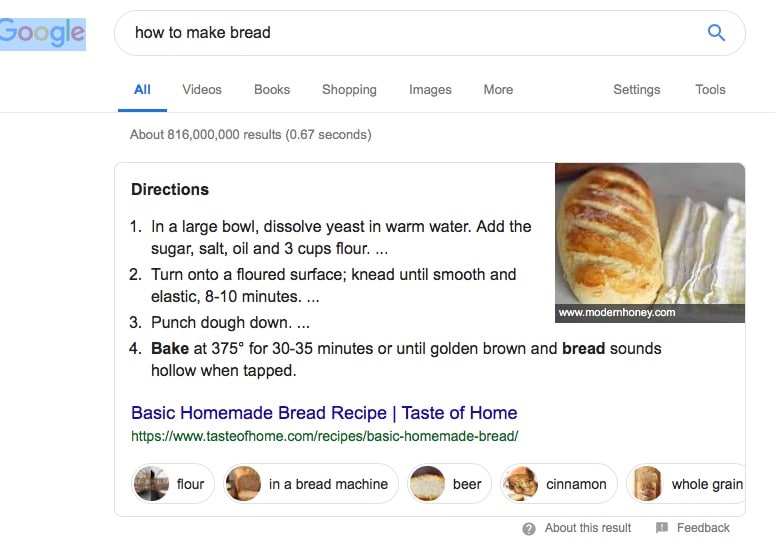 The Featured Snippet of page text displayed at the top of the box which shows the directions for making bread that Google pulled from the tasteofhome.com webpage.  You may have heard these referred to as 'answer boxes' in the past. 
Should We Care About Featured Snippets?
Many people involved with SEO thought that featured snippets would have a hugely negative impact on the number of people that actually click through to the pages within the results.  They have actually increased the click-through rate (CTR) of results ranking within it.
A Hubspot study examined a sample of just under 5,000 search queries, they discovered that the CTR to their website for high volume keywords increased by over 114%, even when they ranked #1, falling just below the Featured Snippet.  The example below provides a great sample of what they found.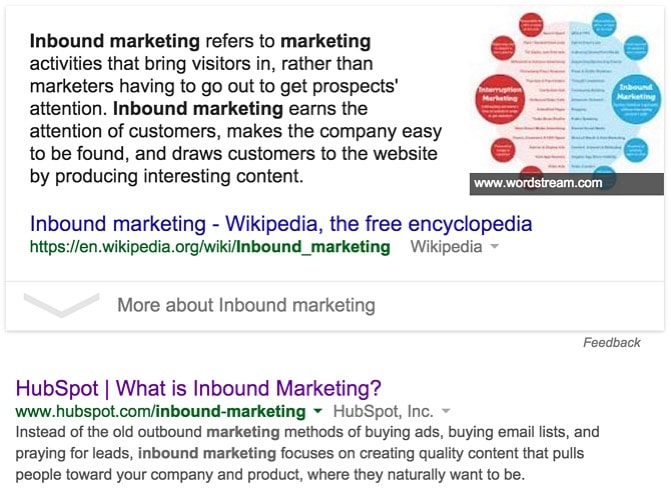 Let's Examine a Featured Snippet Sample
Suppose you rank #1, appearing as the first post below the featured snippet on page one of Google for a keyword that's searched for 10,000 times.   From the data collected, you would expect about 1,700 visits.  Compared to the 3,700 you might see if you landed the Featured Snippet spot.  That's the possible response with just one keyword.
How Do You Rank in the Featured Snippet Section?
Featured Snippets have been a bit of a mystery for a lot of people involved with SEO, as it hasn't been that easy to determine what influences getting your content to appear within them.
There's been a lot of conflicting advice out there, including the idea that Schema.org data was the reason behind Google displaying this data. However, considering that more than 80% of the websites I've looked at that rank within the Featured Snippet don't use any kind of Schema.org markup data, it's safe to say that this isn't the case.
Not only that but Gary Illyes, a Webmaster Trends Analyst at Google, has said outright that structured data has nothing to do with ranking in the Featured Snippet.
Instead of speculating, I decided to run some research of my own. I wanted to answer the following questions:
How frequently does a Featured Snippet appear in the SERPs?

How often does HubSpot rank within the Featured Snippet?

How much of an impact does the Featured Snippet have on CTR from the search engines?

What factors contribute to ranking in the Featured Snippet box?
The results of the test should give you a good idea on how you can start ranking more frequently within the Featured Snippet box.
Organizing the Featured Snippet Analysis:
Here's a brief overview of the data HubSpot gathered for their study:
A total of 4,713 different search queries where hubspot.com ranked between #1 and #5 on page one of Google.com.

The queries all contained either, "how to," "what is," "how to do," or "how does."  This was intentional, as Stone Temple found that from 850,000 question-based queries, 19% of them had a Featured Snippet.

Analyzed the SERPs for each of the 4,713 queries to see if there was a Featured Snippet present or not.

Of the 4,713 queries, 1,361 (29%) of them had a Featured Snippet present.  The remaining 71% either didn't have a Featured Snippet or they did but it was an unlinked "definition" box.

Once they had the sample of 1,361 queries that displayed Featured Snippets, they scraped the SERPs again to see who was ranking within it, what the content of the Featured Snippet was, and what the URL of the featured page was.

Of the 1,361 queries where HubSpot rank between #1 and #5 on page one, they appeared in the Featured Snippet 444 times (33%), leaving a remaining 917 queries where we didn't rank in the Featured Snippet.
What the Featured Snippet Analysis Revealed:
The analysis helped me uncover a few interesting things …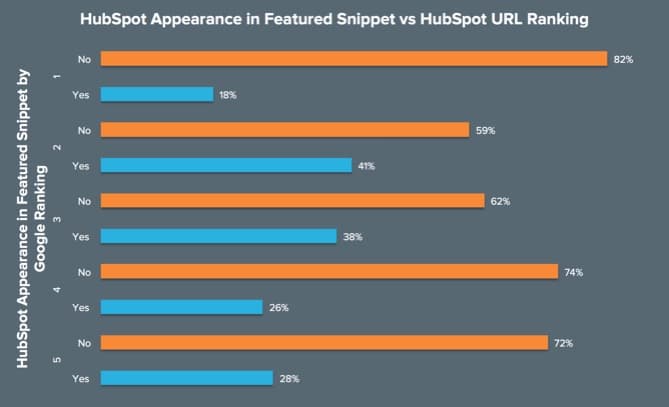 Let's examine what this chart is demonstrating:
The numbers (1–5) in the y-axis relate to the position on page one that a HubSpot URL ranks for a given query.

For each position HubSpot ranks for, there is a bar that shows how often we appear in the Featured Snippet (blue) and how often we don't (orange).
So, for keywords that we rank #1 for on page one in Google SERPs, we only appear in the Featured Snippet 18% of the time. Contrastingly, we appear in the Featured Snippet 28% of the time when we rank #5. Strange, right?
What this says to us is that once you're in the top 5 results on page one, building backlinks and other authority signals matter much less for ranking in the Featured Snippet.  I've seen lots of occasions where relatively unknown websites with much less SEO authority have ranked above us.
The semantic relevance to the keyword in question, along with clear page structure seems to be much more important. 
Here's another interesting piece of data that illustrates how valuable it can be to rank in the Featured Snippet within Google …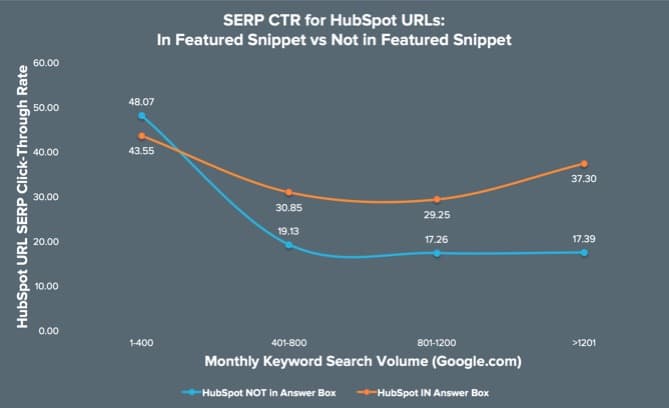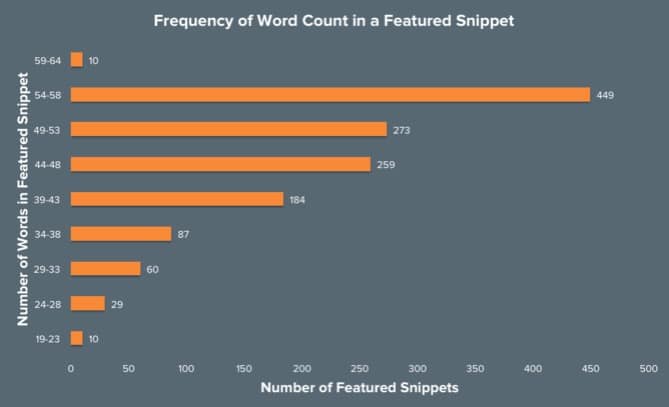 This chart is a little more straightforward.  We extracted all of the content from within the Featured Snippets that I sampled.  This was done to identify any trends in the content being displayed in order to better understand what Google is looking for.  As you can see, content between the length of 54-58 words in total seemed to appear by far the most frequently.
7 Key Takeaways to Help You Rank in the Featured Snippet Section
From this analysis, here are some conclusions:
Backlinks matter much less for ranking in the Featured Snippet when you already rank on page one.

There should be an area on the page where the search query appears in a header (h2, h3, h4, etc.).

The content you want to appear in the Featured Snippet should be placed in a <p> tag directly below the header mentioned above.  This answer should be between 54–58 words long.

Google doesn't always just pull through a whole paragraph of text into the Featured Snippet.  If you add "Step 1," "Step 2," "Step 3," etc. to the start of each subheading within a page (h2) then Google will sometimes just pull through the subheadings and list them chronologically, like in the example above for this URL.  This is particularly prevalent in question-based queries.

Featured Snippets for the same query often have different content within Google.com, Google.co.uk, Google.com.au, and Google.ie.  Try "how to search on Google" as one of many examples.

For shorter, less question-orientated keywords that display a Featured Snippet (e.g. "Inbound Sales"), it's much more likely that Google will pull through a paragraph of text as opposed to a step-by-step. Page structure is incredibly important here.

Google tends to prefer 'answers' that begin logically as an answer would. Here are a few examples to demonstrate what I mean by this: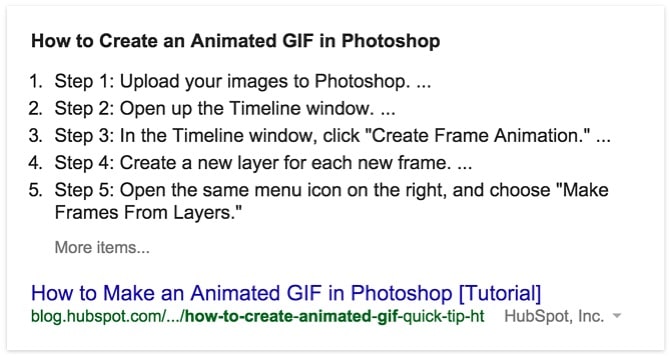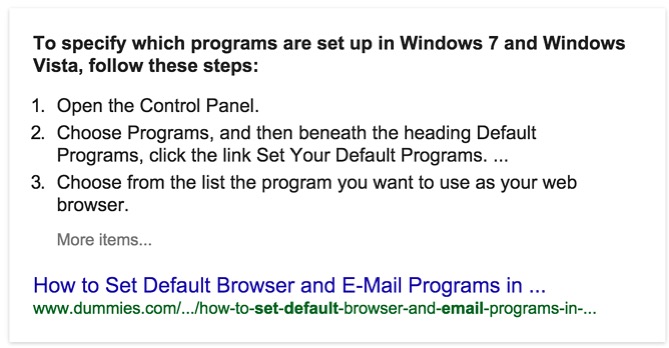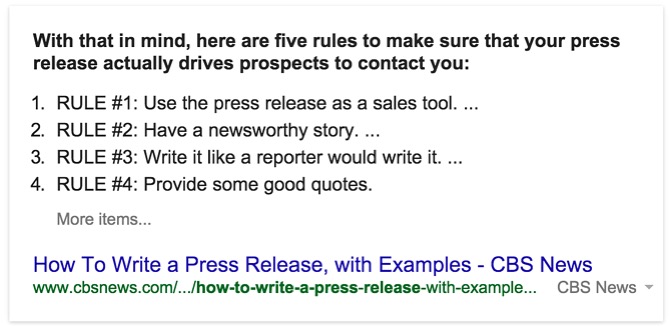 My Featured Snippet Advice
My advice to increase your visibility within the Featured Snippet box is to first run a quick audit of the keywords that you're ranking for within your current SEO campaign.  Determine how many of them are question-based queries.  
Once you've got this list, you can drill down on where you're currently ranking.  Also how well your content is structured, and then devise a plan to reoptimize your content based on the advice I've given above.