Social distancing is in, and so is creating dynamic and engaging websites. If people can't visit you in person, at least they can visit you online and interact with you on social media. The Websites + Marketing and Online Store teams continue to roll out new features, and more are on their way.
Get online guided path series
As a reader of the GoDaddy Garage blog, you know how much value there is here. Our How-To videos are amazing. And our Help articles are, well, helpful. (Shoutout to the Community as well, where people ask questions and hold discussions.)
We thought it would be really cool if we could bring everything together into one package…so we did. Our first guided series, Get Online, helps people get everything set up and published.
Now add Twitch or YouTube Livestream videos to your site
Ask people what they know about Twitch, and most people will think of gamers sharing their latest Fortnite battle.
In today's socially-distanced world, even businesses and other groups are using Twitch and YouTube livestreams.
Are you a musician or in a band? We've got an article about how to use Twitch.tv to generate interest in your music.
Chefs whose restaurant businesses have slowed down are taking the opportunity to do livestream cooking shows.
Hairstylists livestream themselves showing people how to self-trim their own hair.
How could you use livestreaming to connect to your tribe?
Ready to try it out? Here's how to add your livestream video feed to your site. (You'll need to have Twitch or YouTube set up first.)
In your website editor, find where you want the livestream video to be located and add a section.
Although you can search through the list (so many choices!), use the search bar at the top to find the livestream section more quickly.
In the right pane, customize the content and add your Twitch channel name or YouTube livestream link. If live chat is enabled in Twitch or YouTube, you can also toggle the live chat to be visible in your site.
Remember to publish your site so site visitors can watch.
New How-To Video Course: Digital Marketing Suite
We've got a new how-to series: Getting started with GoDaddy Digital Marketing Suite.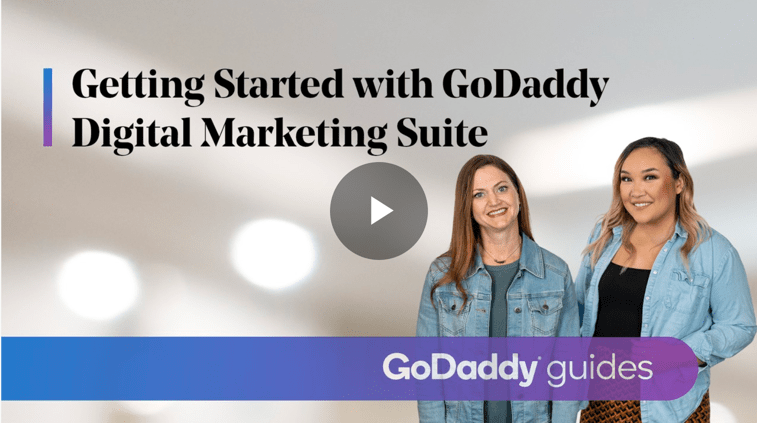 The Digital Marketing Suite is already included in your plan as the "+ Marketing" part of Websites + Marketing.
You'll learn what digital marketing is, and how you can make it all happen. You'll also learn tips and tricks for business listings and social media, as well as some basics of email marketing.
Never stop learning!
GoDaddy app updates include push notifications
App users eagerly awaiting push notifications, your day is here! Get notified when someone signs up for an appointment or event, or purchases a product.
Find a wi-fi hotspot if you're sensitive about mobile data use, and hop on over to your app store of choice (such as Google Play or the Apple Store).
Search for GoDaddy and check you have the most recent version of the app.
After that, open your app and start updating your site…on the go.
Websites + Marketing Help resources
If you have questions, check out these Website Builder resources. And remember — we offer 24/7 phone support. Call us!
Note: If you don't already have a Websites + Marketing account, start for free. Need help with social media? The GoDaddy Social team can help with that.
The post July 2020 What's new in Websites + Marketing appeared first on GoDaddy Blog.