What's Your Digital Marketing Strategy?
Don't be Afraid, Digital Marketing Doesn't Bite!  I Promise.
Digital Marketing Strategy, three words that strike fear into a lot of small business owners.  It may be difficult, deciding what needs to be done to successfully market your business in the digital age.  Let's take a quick look at what should be part of your strategy. 

What does a Successful Digital Strategy Look Like?
Have you thought about what a successful Digital Marketing Strategy would be for your business?  Are you unsure of what you need to do to promote your business? 
Developing a Marketing Strategy that works for your business can be confusing since there are so many options available.  What will your effective digital marketing strategy look like in 2019?
What's Your Best Digital Strategy?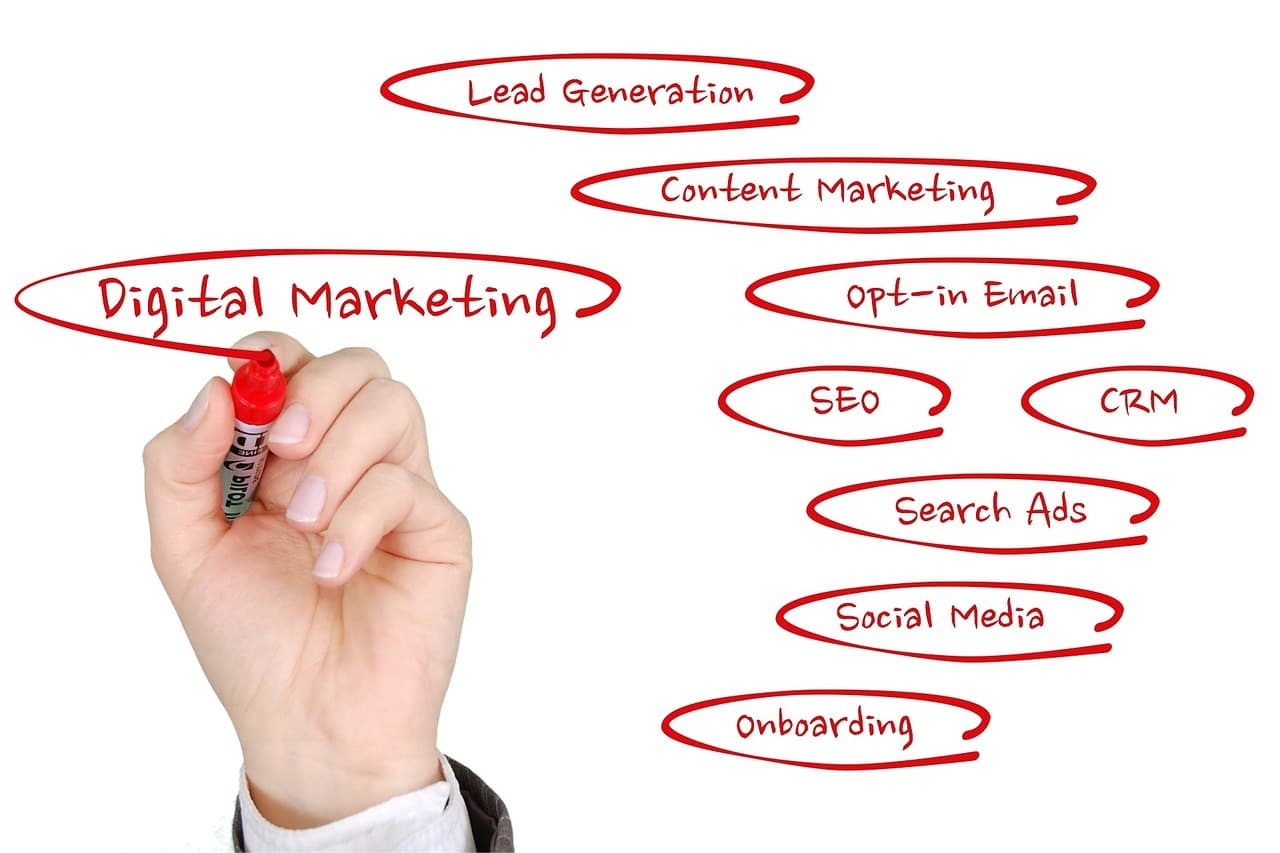 Choose Your Best Social Strategy
We all understand the need for a website and what that entails.  Selecting the best Social Media choices to promote your business can be a more difficult decision.  What is right for your business, do you need to have a presence on Facebook, Twitter and Instagram?  Or are their other platforms better suited to spread your message. 
Ascend2 did a survey in October 2018, with 190 marketing pro's participating. Their report provides valuable data which you can use to determine your 2019 digital marketing strategy and budget. 
Let's discuss a few of their findings to help you plan your digital marketing for the New Year.
Digital Marketing Budgets are Growing
In their study, Ascend2 found that 88% of marketing professionals plan to increase their digital marketing budget in 2019. If you want to meet your goals and compete with your competition, it's important to increase the effectiveness of your Digital Marketing Strategy.
Marketing Must be Tactically Effective
To have a Tactically Effective Digital Marketing Strategy for 2019, there are 10 areas which need to be addressed for success.  We will examine each area in the following paragraphs, read on to learn what it requires for you Digital Marketing Strategy.
Content Marketing Tops the Digital List
Which digital marketing tactics should you invest in?  Content marketing is the most successful tactic for a 58% majority of marketing professionals, while search engine optimization and email marketing follow with 50% and 47% respectively.
Content Marketing Attracts Prospects
Content marketing attracts prospects and transforms prospects into customers by creating and sharing valuable free content.  Content marketing helps companies create sustainable brand loyalty, and provides valuable information to consumers.  
It also creates a willingness to purchase products from the company in the future. This relatively new form of marketing does not involve direct sales.  Instead, it builds trust and rapport with the audience.
Content Marketing is Anticipating Needs
Unlike other forms of online marketing, content marketing relies on anticipating and meeting an existing customer need for information, rather than creating demand for a new need.  As James O'Brien of Contently wrote on Mashable, "The idea central to content marketing is that a brand must give something valuable to get something valuable in return.  Instead of the commercial, be the show.  Instead of the banner ad, be the feature story."  
Content marketing requires continuous delivery of large amounts of content, preferably within a content marketing strategy.  When businesses pursue content marketing, they focus on the needs of the prospect or customer.  
Search Engine Optimization
Search engine optimization (SEO) is the process of affecting the online visibility of a website or a web page in a search engine's organic or unpaid results.  
Higher Rankings are Better
The earlier or higher ranked on the search results page, and more frequently a website appears in the search results list, the more visitors it should receive from the search engine's users.  The objective is for these visitors to be converted into customers.    
Email Marketing is Huge
Email Marketing Defined
Every email sent to a potential or current customer could be considered email marketing.  It usually involves using email to send ads, request business, or solicit sales or donations, and is meant to build loyalty, trust, or brand awareness.  Marketing emails can be sent to a purchased lead list or a current customer database.
The term usually refers to sending email messages with the purpose of developing a businesses relationship with current or previous customers, encouraging customer loyalty and repeat business, acquiring new customers or convincing current customers to purchase something immediately, and sharing third-party ads.  
Opt-in Email Marketing
Opt-in email marketing, is often described as permission marketing, is advertising via email whereby the recipient of the advertisement has consented to receive it.  A common example of permission marketing is a newsletter sent to an advertising firm's customers.  
Such newsletters inform customers of upcoming events or promotions, or new products.  In this type of advertising, a company that wants to send a newsletter to their customers may ask them at the point of purchase if they would like to receive the newsletter.
With a foundation of opted-in contact information stored in their database, marketers can send out promotional materials automatically using autoresponders which is also known as drip marketing.  
Social Media Marketing
Social media marketing is the use of social media platforms and websites to promote a product or service.   Although the terms e-marketing and digital marketing are still popular, the term social media marketing is gaining in popular use.  
Most social media platforms have built-in data analytics tools, which enable companies to track the progress, success, and engagement of ad campaigns.   Companies address a range of stakeholders through social media marketing, including current and potential customers, current and potential employees, journalists, bloggers, and the public.
Establish Your Social Media Culture
Social media marketing includes the management of a marketing campaign, and the establishment of a firm's desired social media "culture" and "tone."  When using social media marketing, firms can allow customers to post user-generated content, known as "earned media".  
Social Media is all about the conversations which you generate, the shares and likes are the gold you are looking for.
Landing Page Marketing
In online marketing a landing page, is a single web page that appears in response to clicking on a search engine optimized search result or an online ad.  The landing page will usually display directed sales copy that is a logical extension of the advertisement, search result or link.  
Landing pages are used for lead generation.  Actions that a visitor takes on a landing page is what determines an advertiser's conversion rate.
Landing pages are often linked to social media, e-mail campaigns or search engine marketing campaigns in order to enhance the effectiveness of the advertisements.  The general goal of a landing page is to convert site visitors into sales or leads.  
You Want Landing Page Sign-ups
If the goal is to obtain a lead, the landing page will include some method for the visitor to get into contact with the company, usually a phone number, or an inquiry form.  If a sale is required, the landing page will usually have a link for the visitor to click, which will then send them to a shopping cart or a checkout area.
By analyzing activity generated by the linked URL, marketers can use click-through rates and the conversion rate to determine the success of an advertisement.
Super Charge your Marketing With Landing Pages
Landing Pages are the core of any successful Digital Marketing Strategy.  Your Digital Marketing Strategy goal is to engage more potential customers and build your Email List.  Relevant content is relevant to search queries and is the most important component of your Landing Pages. 
Your goal is to increase your traffic with Landing Pages, then engage those visitors and convince them to subscribe through your Opt-In Email form and build your Email List.   
Data Driven Marketing
Data driven marketing helps marketers gain insights and understand trends based on an analysis of the numbers.  Data-driven marketing refers to building on insights pulled from the analysis of big data, collected through consumer interactions and engagements, to form predictions about future behavior.
This is accomplished by understanding the data already present, data that can be acquired, and how to organize, analyze, and apply that data to better marketing efforts.  The intended goal is generally to enhance and personalize the customer experience.  Market research allows for a comprehensive study of preferences.
Analytics Tools Help Understand the Data
Analytic tools allow for targeted and personalized marketing to the customer.  Approaching an audience with a targeted campaign increases the chances of their conversion.  Marketers can now understand customer behavior and make informed decisions based on the data, thus allowing for a relevant targeting.
Data Personalization
Data Personalization also called customization consists of tailoring a service or a product to accommodate specific individuals.  This is sometimes tied to groups or segments of individuals.  
Personalization Improves Satisfaction
A wide variety of organizations use personalization to improve customer satisfaction, digital sales conversion, marketing results, branding, and improved website metrics as well as for advertising.  Personalization is a key element in social media and recommender systems.
Digital Marketing
Digital marketing is the marketing of products or services using digital technologies, mainly on the Internet, but also including mobile phones, display advertising, and any other digital medium.
Digital marketing's development since the 1990s and 2000s has changed the way brands and businesses use technology for marketing.  As digital platforms increasingly become part of marketing plans and everyday life they have gained acceptance.  
As more people use digital devices to shop online instead of visiting physical shops, digital marketing campaigns are becoming more prevalent and efficient.
The Challenge is Content
Developing high-quality content, like original research, is the foundation of your content marketing.  SEO, email marketing, paid advertising, personalization, and more round out the rest of your digital marketing strategy.  As you plan for 2019, consider what content pieces you need to create to fuel your content marketing machine.
Your Strategic Priorities for 2019
Increase Prospects and Acquire Customers
Increasing sales prospects or leads, and acquiring more customers, will be top priorities for marketing professionals (64% and 55% respectively) in 2019.  This emphasizes the importance of marketing's support of and alignment with the sales process.
Your businesses life and survival depend on embracing digital marketing and putting into practice the elements discussed here.  You can grow your business following the simple steps outlined here.  
Challenging Barriers to Success
Engaging Customers Online and Measuring Results
Engaging customers online and measuring digital marketing results are challenging barriers to success for 49% and 47% of marketing professionals respectively. The sales-related goal of increasing customer acquisition is also a barrier to success for marketers.
How Digital Marketing Effectiveness is Changing
The good news is the effectiveness of online tactics is increasing for an impressive total of 89% of marketing professionals.  So the investment that you make in digital marketing in 2019 is likely to provide results that you need to meet your goals.
Digital Marketing is not as Difficult as it Seems
It may seem like a daunting challenge to enact a Digital Marketing Strategy which will engage prospects and convert them into customers.  The one thing you need to remember, doing nothing is not an option.  
Take One Step at a Time
Enacting one step at a time, it is possible for anyone to embrace Digital Marketing and use it to build their reputation and their brand.  Start today, select the one facet which you feel the most comfortable with, and begin.  
Master that first step, continue and add another step to your Digital Marketing.  You'll see results and reap the rewards from your efforts.