So much has happened between kids going back to school and the leaves turning brilliant colors getting ready for the winter. The most exciting thing was our customer event on September 29. If you missed it or if you'd just like another chance to watch the sessions, check out our GoDaddy 2020 Event Recap.
The Websites + Marketing and Online Store teams are "falling" all over themselves to roll out new features, and more are on their way.
Chat with customers using the Conversations app (iOS)
If you're on the go, it can be hard to stay on top of all the messages you receive from different channels. If you miss a message or take too long to respond, it can cost you a sale.
If you have an Apple mobile phone, download the GoDaddy Conversations app. View and reply to website messages, texts, or Facebook Messenger from one unified inbox, so you never miss a sale.
Learn more about the GoDaddy Conversations app. Once you've downloaded the app and set up website messaging, your website visitors can send you a message from any page on your site. Select a new business phone number to send and receive business texts. Connect your Facebook business page to use Facebook Messenger. You can even import contacts into GoDaddy Conversations.
Easily create awesome images using Over by GoDaddy
In today's visual world, you need the ability to make beautiful designs, even if you're not a visual designer. Create professional ads, branded content, and stunning stories using Over by GoDaddy. Start with a template and personalize a professional design in minutes. Or make a design from scratch and let your creativity shine through.
Learn how to log in to Over using your GoDaddy account in one of three ways:
In Websites + Marketing or Digital Marketing Suite under Marketing > Content Creator.
On the web at madewithover.com.

Through the Over mobile app (Android or iOS).
Want to see Over by GoDaddy in action and get inspired? Check out our YouTube channel offering multiple playlists featuring quick tips and in-depth tutorials.
Over Free version is available to all users. Over Pro is included with Websites + Marketing Premium and Ecommerce plans (see plans and pricing), as well as Digital Marketing Suite.
Social Media Marketing Dashboard
Now that you have beautiful images, it's time to post on social media. And what better place to do it from than your social media marketing dashboard.
Manage all your accounts from one location
Save time by connecting to your social accounts. View posts from all your accounts and their metrics, such as page views and followers, in one central location. See scheduled and past posts, whether you schedule them from your social media marketing dashboard or from the app itself.
From your Websites + Marketing or Digital Marketing Suite Dashboard, go to Marketing > Social, connect your social media accounts, and see how your posts are doing.

Easily plan, preview, and publish posts
From your social media marketing dashboard, it's easy to create a social media post. Post to Facebook, Twitter and Google My Business immediately or schedule it for later.
From your Dashboard, go to Marketing > Social.
Select Start from scratch and write a caption. Choose an image or upload a new one. Add more than one image if you'd like.
Or select Create Social Post to launch the Content Creator. Choose a template, start customizing, and, when you're ready, select Continue to add a caption and prepare to share your post.
The Preview function lets you see how your post looks in each of the social media feeds. Customize your post for each channel, and select when to publish.
Create shoppable posts for Facebook and Instagram
Social, meet commerce. Now you can take your online store and connect it to your Facebook store (a separate process than connecting for social posts).
Even if you only post on Instagram, the connection between your online store and the Facebook store lets you create shoppable Facebook posts and create shoppable Instagram posts.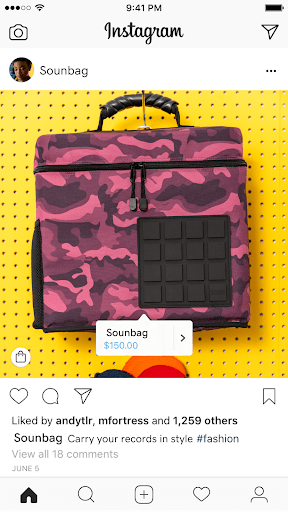 Upload files to your site (and allow customers to upload files as well)
There's more to many websites than just words and images (or videos). To upload Word documents and PDFs into your site, go to your Dashboard and select My Photos. Drag and drop your files into the designated area, or select Add files.
Not only can you upload Word documents and PDFs into your site, but you can customize your Contact Us form so customers can upload files as well. Let candidates for your open positions submit their resumes, or host a contest and let participants upload their own files.
To allow customers to upload files, open your website editor and find or add your Contact Us section. Select the section once allows you to customize the section as a whole. Select Contact Form to customize the form people can fill out. Make sure Attachments is one of the form fields available, or add it.
When you select the Attachments field, you can see if the toggle is on or off and customize the button label. All your changes are saved as you work. Remember to Publish your site to make the changes visible!
When a customer completes the form, we scan it for viruses and malware and then it arrives to an email you designate.
Upload videos directly to your site
We are so excited you can now upload your own videos directly to your site thanks to a partnership between GoDaddy and Vimeo. (Here are some FAQs if you're curious).
Go to anywhere that allows a video such as your header or other sections such as About and Content sections. Select the Video tab and Change video link.
Drag and drop your video file into the upload area and you're done. After three videos, we'll ask you to connect your GoDaddy account to Vimeo. Once you connect, you'll be able to upload up to 10 videos per day, up to 500 MB per week, up to a total of 5 GB, whichever comes first. You can also edit or configure your video player settings.
Change your font size in one section or across your entire site
We've heard from customers that you want more control over some of the design elements in your site. Now you can select text elements such as headers or highlight text, then use the Font Size icon to open a menu to change your font size. Save time and select Apply to entire site if you'd like to make the changes applicable across your entire site.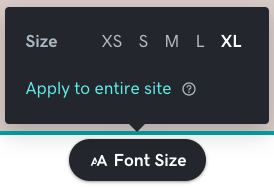 Customize the look and feel of your buttons
One of the new ways you can customize your site is by changing the look and feel of your buttons.
Change your button to have sharp or rounded corners or be an oval. Let it be outlined or filled in with the best contrasting color (white, black, or your theme color).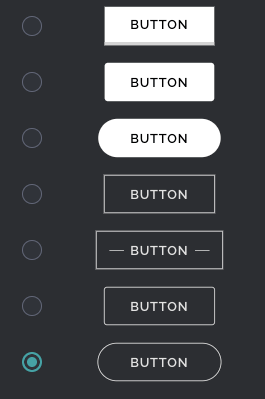 When you open your website editor, select any button in your site to edit the button. On the right, select Edit button styles. Once you have your choice picked, select Done. Your changes are saved while you work, but remember to Publish to have it show up to your website visitors.
Updates to the iOS and Android mobile app
We regularly update our app with new features and updated security measures. Not only does the app allow you to edit your website and manage your account on the go, but you can also enable push notifications any time an order is placed or an appointment is made.
To try it out, go to your phone or tablet's app store and search for GoDaddy. After you install the app, open it and log in. Tap Websites then choose your site. Now you're ready to start designing!
New How-To Video: Using a Blog for your Business
We've got a new how-to series: Using a Blog for your Business.
Blogging is an excellent way to share value with your audience. In this course, we share tips for choosing a blogging niche, the pros and cons for various blogging platforms, and share ways to increase traffic to your blog. Then we'll dive into how to make money blogging and show you how to blog in Websites + Marketing.
Websites + Marketing Help resources
If you have questions, check out these Website Builder resources. And remember — we offer 24/7 phone support. Call or chat with us!
Note: If you don't already have a Websites + Marketing account, you can start for free today.
We believe in you!
The post Fall 2020: What's New in Websites + Marketing appeared first on GoDaddy Blog.