The news industry has grown by leaps and bounds ever since the advent of digital media, thanks to the ease it affords in accessing information in real-time. Almost every newspaper, magazine and TV channel now needs an active online presence to be able to cater to the consumers' demands of updated information within seconds and on the go. And the perfect way to show your credentials? With a .press domain name.
6 ways to establish authenticity and credibility with a .press domain name
The competition for staying relevant to consumers has increased and requires media organizations to find unique ways to establish their credibility and fight the "infodemic" of rumors and disinformation.
Fortunately, there is a new domain extension specifically created for the news and journalism industry, .press.

In this guide, we'll cover six steps on how to find your perfect .press domain name:
Define your philosophy.
Define your expertise.
Create a niche.
Create your personal brand.
Create a parallel brand.
Branding for press-related organizations.
Everyone from news agencies, journalists, freelance news bloggers, students, photojournalists and news-based SaaS (Software as a Service) companies can create easy-to-remember and contextually relevant online brand names using the .press domain extension.
Below, we will cover these six creative ways to inspire you.
1. Define your philosophy
A media organization of high repute must uphold the values of freedom of press and freedom of expression to the highest standards of adherence. The press is an entity that people turn to for accurate, unbiased reportage of current events, free from the influence of political or religious views.
This is exactly what Freedom of the Press, a U.S.-based nonprofit organization that works towards safeguarding the ideals of free press and public-interest journalism, has strived to achieve through its domain name.
With freedom.press, the organization communicates its philosophy in a crystal-clear manner, at the same time reaping the benefits of a short, memorable and contextual domain name.
If you too ascribe to a similar philosophy, you too can use the .press extension to create a meaningful domain name, such as accessfree.press.
2. Define your expertise
Creating a domain name using .press gives you the opportunity to establish yourself as a credible source of information and content. You can also use it to further define your expertise in the industry you belong to.
For instance, domain names such as technews.press or globalaffairs.press unambiguously indicate that you provide reportage and that you have an area of expertise (technology and world news, respectively).
3. Create a niche
Take a minute and consider what makes you stand out as a news content website.
Is it the easily consumable format of your reports (all one-minute reads or one-minute videos)?

Are you a platform dedicated to citizen-generated stories?

Do you have rare archives of old newspapers?

Are you a news agency that collects information from various sources?
You can use the .press domain extension to create an online identity that truly defines your niche. Take a look at domain names such as oneminute.press or wildlifenews.press.
4. Create your personal brand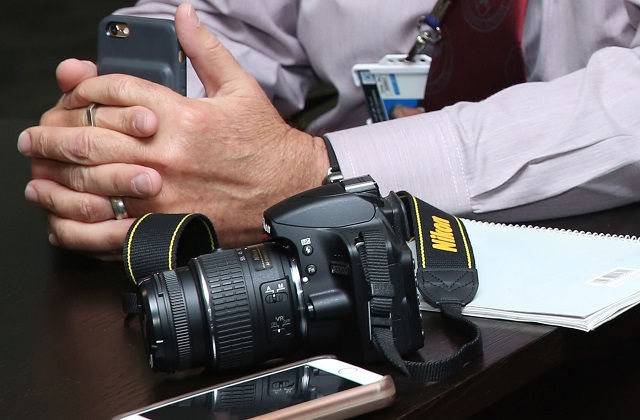 For individuals related to the field of journalism who are looking to create a personal online brand for themselves, the .press extension offers a plethora of opportunities.
Seasoned or new journalists can use a domain name that includes their first and last name followed by .press to create an online compilation of their best stories, columns and professional credentials.
Photojournalists can use this industry-specific domain extension to create an online portfolio that showcases their photography as well as journalistic skills.
A journalism student can use such a domain name to create a portfolio website with their own pieces on current news, events or stories created during internships or university projects.
Speaking of universities, almost all media colleges have their own student-led news teams. The .press extension provides the perfect opportunity for such teams to create an online news brand powerful enough to be popular beyond the confines of the university.
As a personal brand using the .press extension, you also have the option to get a little creative with your branding by using other words relevant to the field to create a more meaningful domain name.
For instance, citynewswithjoe.press or sportswithdavid.press have the person's name, the purpose or niche of the content as well as the credibility of the word "press" attached to them.
5. Create a parallel brand
Are you a newspaper, TV news channel or news agency looking to take your content online? Or maybe you're considering building a space where you share updated information about current events?
You can opt for a domain name that incorporates your newspaper's or channel's name followed by .press.
This can help you create an online brand that is already infused with the credibility and popularity of your offline band.
Similarly, if a news website is looking to venture into a different niche, they can also use a combination of their brand name, differentiator and .press to create an industry-specific, indicative and easily recognizable domain name.
For instance, a news website called newsfirst.press that wants to start a new website for news for:
Sharing news on the entertainment sector can use a domain name such as entertainmentfirst.press.
Creating an aggregation of blogs by its investigative journalists, it can opt for insightsfirst.press.
Exploring a new geography, such as a new city (let's say, Tokyo, Japan), it can go for tokyofirst.press.
Many retail brands are now looking to establish themselves as industry experts by venturing into content.
For such brands, .press offers a brilliant opportunity to create an online brand synonymous with credibility and relevant information.
For instance, a fashion brand can create a fashion news website or a brand belonging to any industry can create a separate PR page using a .press domain.
6. Branding for press-related organizations
Even if you are not directly part of the press, you may be an organization or a company that provides supportive services to news companies.
As an example, you could be an app or a web platform that links agencies and journalists reporting on the field. You could also be providing easy-to-use online tools for websites to track the success of the stories.
You could even be a company that provides training to journalists in using web tools. You can use the .press extension in your domain name to express your association.
For example, consider domain names such as webtools.press or newsconnect.press.
Conclusion
These ideas are just the tip of the iceberg when it comes to the branding opportunities that you can create with meaningful, industry-relevant and contextual domain extension such .press.
It can be used for making your current nature of work identifiable to your audience.
It can also be used for creating a scalable online journalism brand that allows you to expand into different niches and geographies without making too many changes to your existing brand. Or you can simply use it to express your views on the current happenings from all around the world.
This article includes content originally published on the GoDaddy blog by Swati Maheshwari.
The post 6 ways to establish authenticity and credibility with a .press domain name appeared first on GoDaddy Blog.